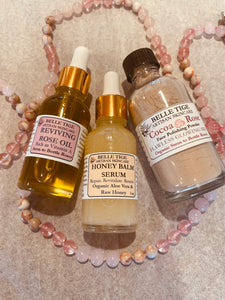 Polish. Hydrate. Glow.

The Sleeping Beauty Rest Set is the perfect nightcare duo to get the ultimate restful night's sleep. The exfoliating clay polish helps brighten skin while the detox clay helps remove toxins from your skin. The honey aloe vera serum and oil help plump and glow the skin. Hydrating while ask replenished g skin with natural nourishment, leaving you with a refreshed, bright complexion.
Rest easy with garden to bottles Roses, cocoa Polish, and honey serum. Treat your skin luxurious organic Skin care and wake up with beautiful glowing skin.