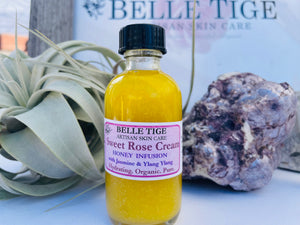 Ultra Hydration Cream 
Sweet Rose Cream is an amazing blend of aloe, honey, and Shea butter. It's blended with essential oils of Jasmine, Ylang and Vetiver. Use on face and all over the body. Add a few drops to the Yoni flower as well for hydration. 
slight Astringent as it's blended with witch Hazel to dissolve honey.
Probiotic- honey is an amazing probiotic for the skin helping to reduce acne redness and Inflammation 
Essential oils have healing properties to help skin and Balance hormones and are excellent when combined with rich carrier oils