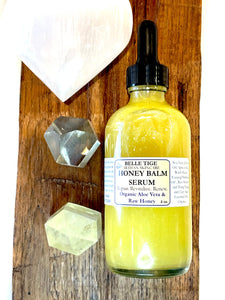 HYDRATION. REPAIR. ANTI-AGING.
Stimulate cell turnover and reduce fine lines. This amazing serum will sooth and repair damaged skin. A natural and hand blended emulsion of organic Aloe Vera, cold pressed oils, and raw Oaxaca honey helps protect and soften skin.
Ritual: Gently invert bottle several times before use. Apply dime size amount of serum to freshly cleaned skin and gently blend with the left ring finger.
Size: 4oz.
Ingredients: Organic Aloe Vera, Organic cold pressed oils of Jojoba, Apricot and Evening primrose; Witch Hazel; Raw Honey, and Essential oils of Clary Sage and Ylang ylang.